Muskrats are prolific breeders with 2-14 kits per litter. They can be found along river banks building intricate tunnels. They often eat reeds.
A beaver is the largest aquatic rodent. A beaver's teeth are high in iron content with makes them yellow and ideal for chewing on trees. A beaver will typically dam up a stream and build a den near the bank. They feed on the inner layer of bark on trees.
WHAT TO LOOK FOR
With Muskrats, look for piles of reeds on the shoreline. Also look for evidence of tunnels, holes, and disturbance of the water bank.
For beaver, some signs to look for are cut down trees close by the water, slides leading from the water to cut down trees, dams across streams. Culvers stuffed full of branches are another indication of possible beaver activity. Beavers can cut down a five-inch tree in about three minutes.
BEAVER & MUSKRAT CONTROL
Usually, once a beaver or muskrat moves into a water area and finds good habitat, the only way to solve the issue is to have a wildlife professional remove the beaver.
Install a wire barrier at least three feet in height around valuable trees, keeping about 1-foot minimum clearance around the trunk.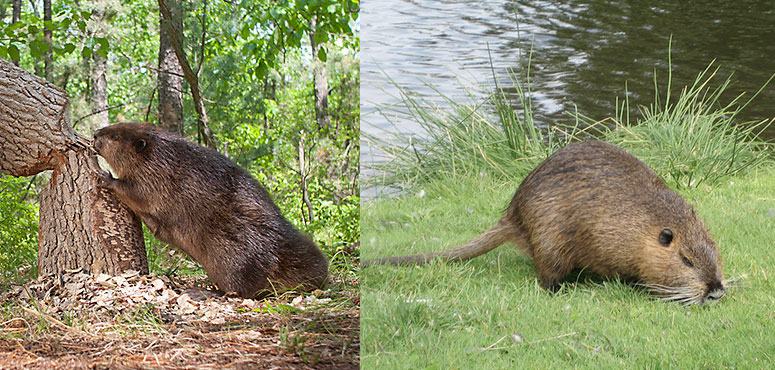 Our office is next to a restaurant so pest control is a constant battle. Bobcat Wildlife & Pest Management were discreet and efficient. We have not seen any pests since working with them.
Bobcat Wildlife and Pest installed Incide PC™ insulation in our attic space. They were quick, quiet, and did a great job. Our home is warmer and more comfortable now. Well worth it!
Highly recommend this group!!! Within 24 hours of my "something stinks" panic call, one of the techs, Ronnie, was at our place taking care of the animals that found their final resting place in our vents… and patched it up so we wouldn't have this happen again. On-time, efficient, and very knowledgeable!!
If you are looking for someone who does a great job, is thorough, is dedicated to making your home a priority-Bobcat Wildlife & Pest Management is you're only source for pest management. Best of the Best!
We had a pest problem and the entire team was very responsive! From the phone staff to Ronnie coming out to the property. He was very helpful in explaining our issue and how we were going to treat it. Thank you!
Bobcat Wildlife & Pest were very helpful. They were prompt and went over and above in their service to us. We will definitely recommend them to our family and friends.