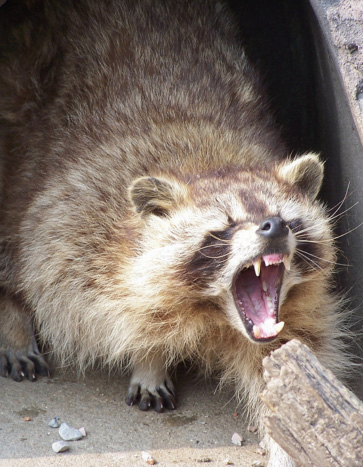 Securing a reliable raccoon removal service is essential for protecting your home and well-being. These clever and versatile creatures, while intelligent and adaptable, pose real threats as they intrude into urban settings. Swift action in managing raccoon issues is vital for reducing these risks.
Raccoons can carry diseases and parasites. Professional raccoon removal ensures protection from these health risks.
2. Prevent Property Damage
Raccoons are adept at causing structural damage, especially in attics and roofs, necessitating professional intervention.
3. Maintain Cleanliness and Hygiene
Removing raccoons helps in keeping your property clean, free from the mess and potential contamination they cause.
Bobcat Wildlife & Pest Management is committed to delivering exceptional raccoon removal services, ensuring your home or business remains raccoon-free. Our comprehensive approach includes:
Specialized Raccoon Extraction: Employing advanced and humane methods, our experienced team effectively removes raccoons, prioritizing the safety of both the animals and your property.

Thorough Property Inspection: We conduct detailed inspections to identify raccoon entry points and nesting areas, providing a complete understanding of the infestation.

Long-Term Prevention Strategies: Beyond immediate removal, we focus on sustainable solutions to prevent future raccoon problems, including securing potential entry points and advising on habitat modifications.

Health and Safety Assurance: We rigorously follow health and environmental guidelines in our raccoon removal services, safeguarding both your family's health and the natural ecosystem.

Personalized Removal Strategies: Every raccoon challenge is different, and we respond with customized solutions designed to effectively address your unique situation and provide peace of mind.
OUR RACCOON REMOVAL PROCESS
At Bobcat Wildlife & Pest Management, we're dedicated to providing a detailed and humane raccoon removal service. Our methodical approach guarantees your space is safeguarded against raccoon intrusions, keeping your home secure and peaceful.
NOT A RACCOON INFESTATION?
If the signs you're noticing don't quite match up with raccoon behavior, it's possible you might be facing other wildlife or pest challenges. At Bobcat Wildlife & Pest Management, we have the expertise to handle a diverse range of pest issues. Explore our services for:
Other Wildlife Removal: We provide humane and effective solutions for various wildlife, including squirrels, birds, and more.
Insect Control: Facing an insect problem? Our team offers comprehensive control and prevention methods.
Rodent Management: We also specialize in managing rodents, addressing issues with mice, rats, and other common pests in a safe and efficient manner.
HOW TO SPOT RACCOON ACTIVITY

Raccoons are clever and resourceful creatures, often hiding in less obvious places around your property, making detection challenging. That's why recognizing the signs of raccoon activity is essential for prompt and effective raccoon removal. Here are key indicators to watch for:
1. Nocturnal Noises
Listen for distinctive sounds like heavy thumping or scratching in attics or walls at night, a common sign of raccoon presence.
2. Footprints and Tracks
Keep an eye out for raccoon footprints, particularly near food sources or sheltered areas.
3. Damage and Tampering
Noticeable damage such as torn garbage bags, disrupted gardens, or compromised soffits and shingles can often be attributed to raccoons.
Frequently Asked Questions
Bobcat Wildlife & Pest were very helpful. They were prompt and went over and above in their service to us. We will definitely recommend them to our family and friends.
Our office is next to a restaurant so pest control is a constant battle. Bobcat Wildlife & Pest Management were discreet and efficient. We have not seen any pests since working with them.
Highly recommend this group!!! Within 24 hours of my "something stinks" panic call, one of the techs, Ronnie, was at our place taking care of the animals that found their final resting place in our vents… and patched it up so we wouldn't have this happen again. On-time, efficient, and very knowledgeable!!
We had a pest problem and the entire team was very responsive! From the phone staff to Ronnie coming out to the property. He was very helpful in explaining our issue and how we were going to treat it. Thank you!
Bobcat Wildlife and Pest installed Incide PC™ insulation in our attic space. They were quick, quiet, and did a great job. Our home is warmer and more comfortable now. Well worth it!
If you are looking for someone who does a great job, is thorough, is dedicated to making your home a priority-Bobcat Wildlife & Pest Management is you're only source for pest management. Best of the Best!