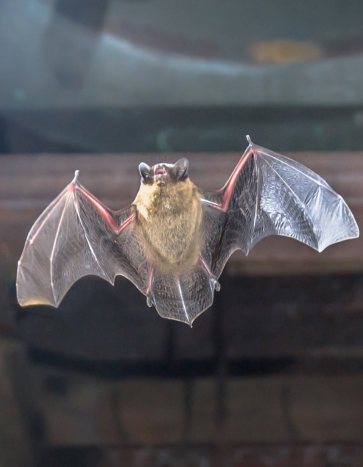 Ensuring effective bat removal service is vital for safeguarding your home's integrity and your family's health. Bats, though ecologically beneficial (a single bat can eat up to 3,000 insects, including mosquitoes, in one night), can become a nuisance and a health hazard when they invade residential spaces. Timely bat removal is key to preventing these issues.
Bats can carry diseases like rabies. Professional bat removal ensures safety from potential health risks.
2. Prevent Property Damage
Bats residing in buildings can cause structural damage and leave behind hazardous droppings.
3. Maintain Cleanliness and Hygiene
Removing bats helps keep your property clean and free from the odors and stains caused by bat droppings.
Bobcat Wildlife & Pest Management is dedicated to providing top-tier bat removal services, tailored to ensure your home or business is bat-free. Our approach includes:
Specialized Bat Extraction: Leveraging state-of-the-art techniques, our skilled team safely and humanely extracts bats, prioritizing your comfort and the bats' welfare.

Detailed Property Surveys: We meticulously inspect your premises to locate bat colonies and entry points, ensuring a comprehensive understanding of the infestation.

Long-Term Deterrence Strategies: Our service extends beyond immediate removal. We implement effective measures to safeguard your property against future bat invasions.

Health and Environmental Standards: Adhering to strict health guidelines, our bat removal practices are safe for both your family and the environment.

Personalized Service Plans: Recognizing the uniqueness of each situation, we customize our bat removal strategies to align with your specific needs and concerns.
At Bobcat Wildlife & Pest Management, we offer a comprehensive bat removal service designed to effectively and humanely address bat infestations on your property. Our process is thorough, ensuring your home remains bat-free and safe.
If the signs you're noticing don't seem to align with bat activity, it's possible you might be dealing with other wildlife or pest issues. At Bobcat Wildlife & Pest Management, we're equipped to handle a wide range of pest problems. Check out our services for:
Other Wildlife Removal: We offer solutions for various wildlife, including raccoons, squirrels, and more, ensuring safe and humane removal.
Insect Control: If you're encountering issues with insects, our team can provide effective control and prevention methods.
Rodent Management: We also specialize in rodent control, addressing issues with mice, rats, and other rodents in a safe and efficient manner.

Bats typically sleep in tight corners and underneath insulation, so detection can be difficult. That's why identifying signs of bat activity is crucial for timely and effective bat removal. Here are key indicators to watch for:
1. Nocturnal Sounds
Listen for unusual noises, like scratching or squeaking, in walls or attics at night, which can indicate bat presence.
2. Guano Accumulation
Look for bat droppings (guano) near entry points or in attics, which are often found in small piles.
3. Entry and Exit Marks
Observe staining or greasy marks around small openings or crevices in your building, which can be entry points for bats.
Contamination of Property
Frequently Asked Questions
Bobcat Wildlife & Pest were very helpful. They were prompt and went over and above in their service to us. We will definitely recommend them to our family and friends.
If you are looking for someone who does a great job, is thorough, is dedicated to making your home a priority-Bobcat Wildlife & Pest Management is you're only source for pest management. Best of the Best!
Highly recommend this group!!! Within 24 hours of my "something stinks" panic call, one of the techs, Ronnie, was at our place taking care of the animals that found their final resting place in our vents… and patched it up so we wouldn't have this happen again. On-time, efficient, and very knowledgeable!!
Our office is next to a restaurant so pest control is a constant battle. Bobcat Wildlife & Pest Management were discreet and efficient. We have not seen any pests since working with them.
We had a pest problem and the entire team was very responsive! From the phone staff to Ronnie coming out to the property. He was very helpful in explaining our issue and how we were going to treat it. Thank you!
Bobcat Wildlife and Pest installed Incide PC™ insulation in our attic space. They were quick, quiet, and did a great job. Our home is warmer and more comfortable now. Well worth it!